Paloqueth Dolphin Vibrator Review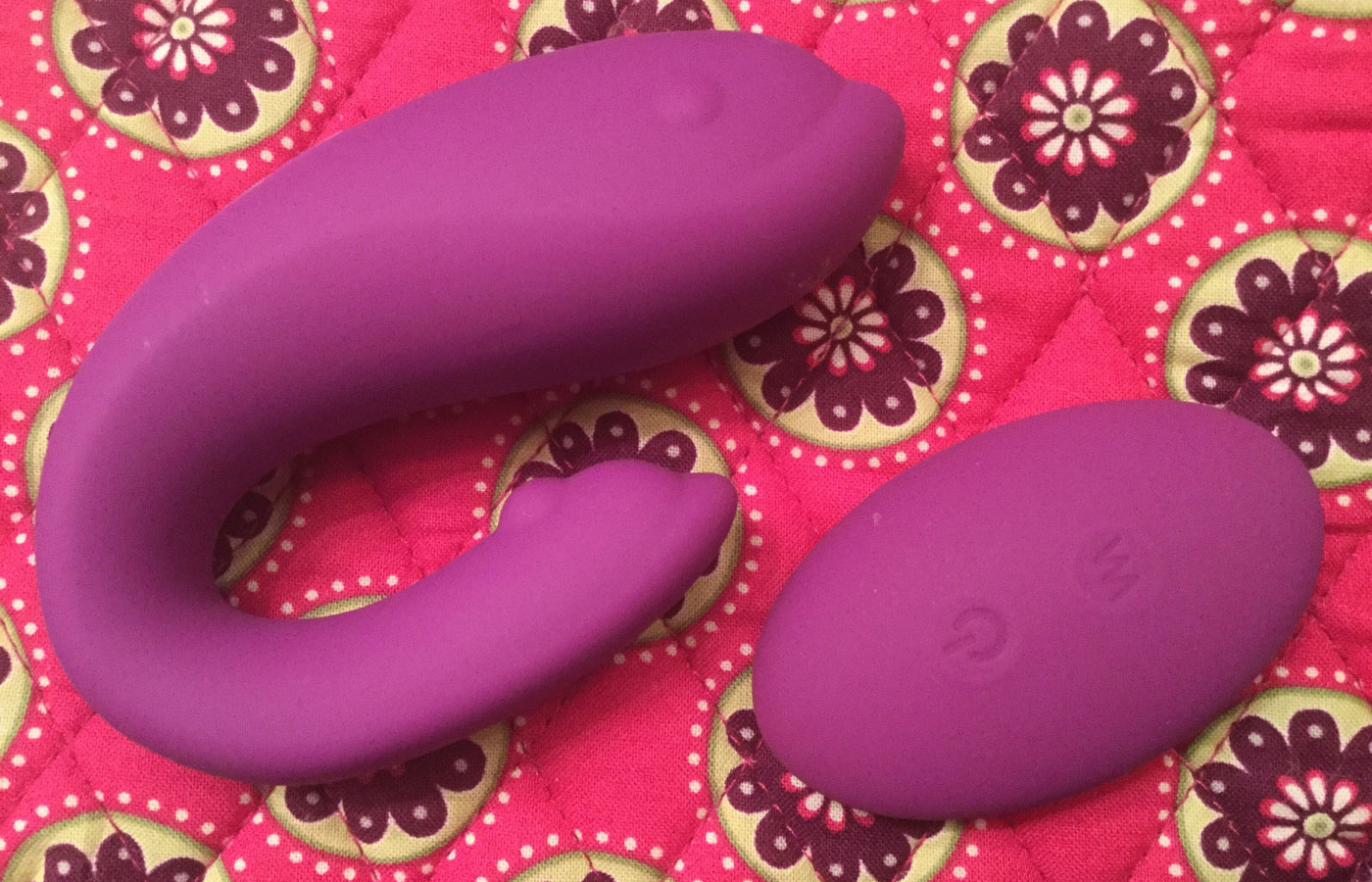 This is the third toy I've reviewed for Paloqueth and I must say it is my least favorite. Don't get me wrong, I still like it. It's just that that their Mermaid and the G-Spot Rabbit work better with my particular anatomy.
The Dolphin is like most toys, able to be used in a variety of ways. You can use it on nipples, testicles and clitoris. It can be used in the anus or in the vagina.
I suspect that most folks will try to use it as a couples toy. The smaller, shorter portion goes in the vagina hopefully allowing room for a penis, or dildo to fit it and experience the vibrations. The larger portion with the control buttons rests on the clitoris.
Before I get into specifics on the experiences that handsome hubby and I had with this toy let's get into the more mundane details on this toy.
SPECIFICATIONS
Dual Motors
Remote Control (30 foot distance)
Medical Grade Silicone
Rechargeable
9 Vibration Modes
Whisper Quiet
Water Resistant (not submersible)
Use only water based lubricant (no oils)
This toy arrived with the others that Paloqueth sent me via Amazon. Currently their line is only available via Amazon. When corresponding with their representative I asked if they manufactured their own products. Yes, was the answer I received.
I really like the packaging for Paloqueth's toys. The boxes are nice and sturdy but also quite simple at the same time. The toy, as you can see in these pictures, is nestled inside styrofoam. The Dolphin comes with toy, a remote control, magnetic charging cord and an instruction card. You will find more complete info on the Dolphin on the Paloqueth website though.
Handsome Hubby and I have played with this toy a couple times so I could be sure that it was given a proper testing before writing a review. Both times we played with the Dolphin we were not able to use it as I believe it was intended. That though may be due to anatomy issues. Not to get into too much detail, my pelvic bones are narrower than average, according to my ob/gyn. I've been suspicious for awhile now that these types of toys would not work for us. That's one reason I did not seek one out. However, when Paloqueth offered to send one for review, I thought this is a great way to find out.
I've heard from customers in the store that they don't have issues with their couples toys. Mostly we sell We-Vibe's and Satisfyer's, as far as couples toys go. So I know they do work well for some people.
For us, the difficulty was keeping the shorter portion in the vagina at all. Let alone trying to get his penis to fit as well. It just didn't work for us.
However, we made lemonade out of the lemons and found many other ways to use this toy. Some of these ideas you'll find on the website.
We tried it on various other body parts such as our nipples, his cock, and his balls. At one point I had it well balanced so that he had intense vibrations right on his Frenulum. I think it's safe to say he liked it as he kept it there for several minutes.
For me, I could see it working well as a public play toy. I think the smaller part would stay in the vagina or anus with the larger part on either a clitoris or the 'taint'. Especially if one had undies on to help keep it in place,
Since it has a remote control, it's even more perfect for this. Hmmmm, might have to try that tonight at dinner.
The Dolphin did feel very nice on my clitoris when handsome hubby and I were trying to use it. I'm not sure it's enough to get me to orgasm but it works for foreplay for sure. I require a lot of clitoral stimulation to orgasm.
The Dolphin is easy to charge. You can see the two charging magnets in the picture above as well as the on/off button. Hold this until it turns on, you'll see a blue light. This means it's on. Click the button on the remote (battery powered) and simply move through, the 9 different vibration modes using the remote.
Having experience in the store with different remotes this one is among my favorites. There are some that are very difficult to use and change batteries on, but not this one.
The medical grade silicone feels very nice and smooth. There are no rough edges. The toy is well made.
Be sure to use water based lubricant only, as violation of such may void your warranty. Try to find one that is Glycerin- and Paraben-free as it's more body safe and less sticky.
Always clean your toys before and after use. You can use a sex toy cleaner or soap and water. Let the toy air dry.
All Paloqueth toys come with a 30 day, no risk, money back guarantee AND a one year warranty, according to their representative.
The price point on the Dolphin and all the other Paloqueth toys is very reasonable. Similar toys in the store I work in run from $99.00 (USD) to $199.00 (USD) depending on exactly which model you get. So this one at $31.96 (USD) at time of publication is very reasonable.
Thank you to Paloqueth for sending me this Dolphin Vibrator in exchange for my always honest review. If I don't like a toy you will know about it. I do not promise a positive review to those who send me toys to review. I owe them, and you, my readers, an honest review.
There are not any affiliate links used in this review.