Rabbit Vibrator – Sex Toy Review
The lovely Maria from Paloqueth contacted me not too long ago and suggested I'd do some sex toy reviews for them! Well, hellooooo! I love sex toys and I am always open to write an honest review about them. This time I tested the Paloqueth Rabbit Vibrator. And here is what I thought of it!
Let me start with how smart the name Paloqueth is! It is an abbreviation of the words "Passionate love is a quenchless thirst". That sounds so sexy and delicious! The Paloqueth Rabbit Vibrator comes in a very beautiful box. It has pretty diamond pattern printed on it, and it is all shiny! If first impressions matter, this definitely made a great first impression on me!
The Paloqueth Rabbit Vibrator
Inside the box, I found the cute pink rabbit vibrator, a purple satin bag to store the toy in later, a charger cable and an user manual. The instructions come in four different languages and are straight forward.
The Paloqueth Rabbit Vibrator is made out of 100% soft but firm medical grade silicone, which makes it body safe and easy to clean. You can either use toy cleaner or warm water and a mild soap. It is very soft to touch indeed! If you want to use a lubricant with this toy, the lubricant needs to be water-based.
The vibrator is waterproof, which means that you can use it both in the shower or the bath. It is charged with USB cable which you can easily plug into your laptop. The battery takes about two hours to fully charge and then it will give you three hours of fun before it needs to be charged again.
It comes with nine different vibration modes, from slow to fast, from pulsating to steady. So there is most likely a setting that would work for you. It has two motors, one in the tip of the vibrator, and one in the little bunny attachment.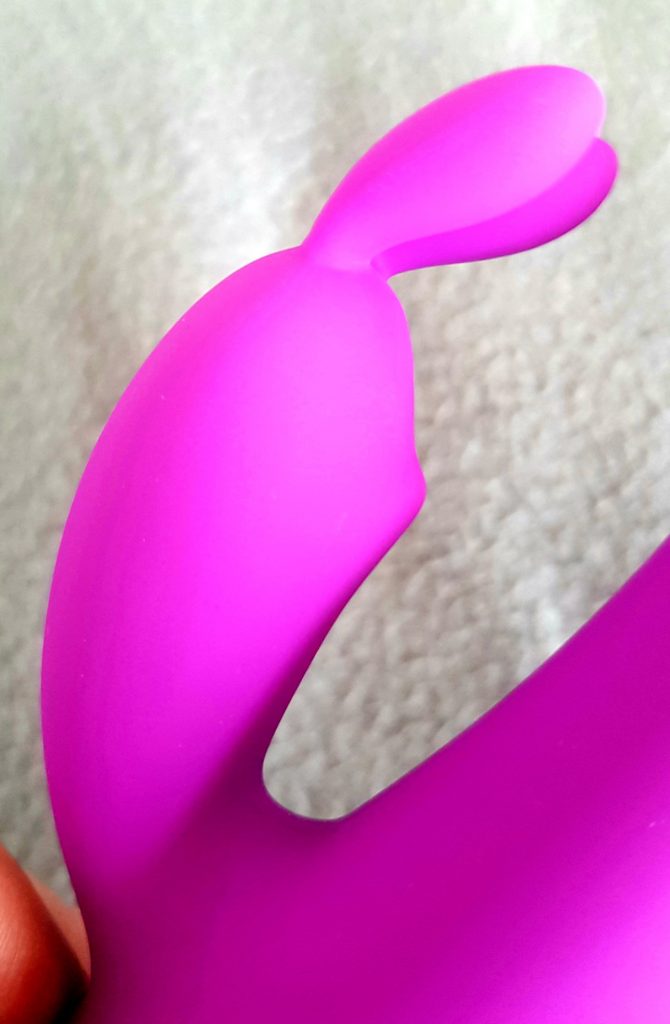 When first touching the Paloqueth Rabbit Vibrator, I loved how soft it felt. The rabbit ears are very cute, and the the tip of the vibrator has a great girth, and is ribbed! This means that you can use this vibrator for both clitorial and g-sport stimulation! Oh my!
I especially love the cute addition of a nose on the rabbit part's face. It made me giggle when I first saw it, and then later, when using it, I actually realized that it is yet another spot on this vibrating machine that you can use for clitorial stimulation. So yes, let's talk about how I liked it when using it!
My Experiences!
After doing the initial charging, I got my water-based lube out. I was on my back, legs spread. I first used the tip of the vibrator on my clit to get things going. That felt really nice! I then let it slowly slide inside my vagina and oh gosh, things went fast from there! Having started with the lowest setting, I quickly felt the need to increase the speed. I pushed the vibrator in and out myself, which made it brush over my g-spot, vibrating, soft and rough. The rabbit ears were brushing my clit. Another setting up and I found myself manically pushing the toy in and out myself, feeling the vibrations and everywhere, until I had an amazing orgasm, both clitorial and on my g-spot, simultaneously!
Each setting of the Paloqueth Rabbit Vibrator makes the bottom of the toy light up in a different colour, which I think is a really cool feature. I think it could be helpful when using the toy in the dark!
On I went using the vibrator in the shower! It says it is waterproof after all! And it worked perfectly well! I was standing up, leaning against the wall of my shower cabin, legs apart and pleasured myself. I can totally see how it could be even more fun in a bathtub. If only I had one!
A last thing I tried was using the vibrator in a different position. I was on my knees, butt up in the air, and arm between my legs. The way it touches the g-spot is different in this position, and the way the rabbit ears were lying on my clit as well. But it was just as enjoyable! I had a few very intense orgasms. My partner helped me out there as well, penetrating me with the vibrating toy. It was a fun way to do foreplay, and I was all ready and set for his toy to penetrate me after all the amazing orgasms!
My Verdict?
I loved using the Paloqueth Rabbit Vibrator! There are only two buttons that are easy to find even when you are just looking for them with the touch of your finger. The material is very soft and I love how the toy has a flexible movements to it. I think this could be a great toy for anyone who wants to be stimulated in more than one way at the same time, either alone or with a partner!
You can read more on the Paloqueth Rabbit Vibrator, and purchase it for a reasonable price of 28.99 US Dollars here.
I offered to write an honest review in exchange for the toy. I did not get paid for this review, and I am also not affiliated with Paloqueth, which means I will not get any money if you purchase anything from them.