Review: Paloqueth G-spot Vibrator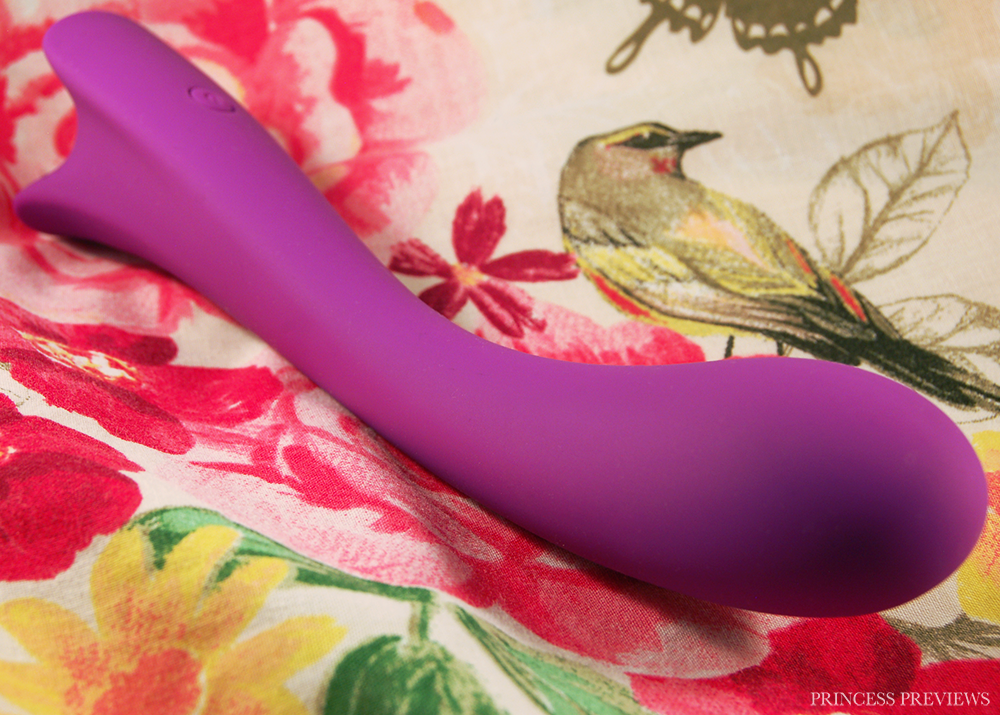 I'm very lucky to run this blog and get sent all these amazing sex toys for review. But let's face it, if I had to afford all these toys by myself? I'd probably have about four, despite my intense love for them. As a freelance artist, I don't typically have the money to make purchases solely for myself, especially when it's for something as undervalued as pleasure. So when I see a sex toy that has a price tag that I could actually consider purchasing myself? That's a rarity, and it gets me very excited. I like to imagine all my readers are like me before I had this blog, trying to pick the best possible toy to buy while still being on a tight budget. So toys like the Paloqueth G-Spot Vibrator, which I'll be reviewing today, would have been perfect for me to come across back then. It's cheap enough to suit almost any budget, but is it actually any good? Well I guess that's my job to find out!
Paloqueth are a new kid on the sex toy block, based in Hong Kong and operating since 2014. They sell a large range of toys, from vibrators and dildos, to fleshlights, dolls, and even their own lubricants. Most of their toys are made from body-safe silicone which is fantastic to see, although a few do use other materials such as TPE, so be cautious of this when browsing their stock. One thing that certainly stands out when viewing Paloqueth's store is their prices, which are extremely reasonable and quite low (but not so low that it seems dodgy). Cheaper toys are something I am always trying to promote and are constantly on the look-out for, so this made me very eager to see if these toys were the real deal.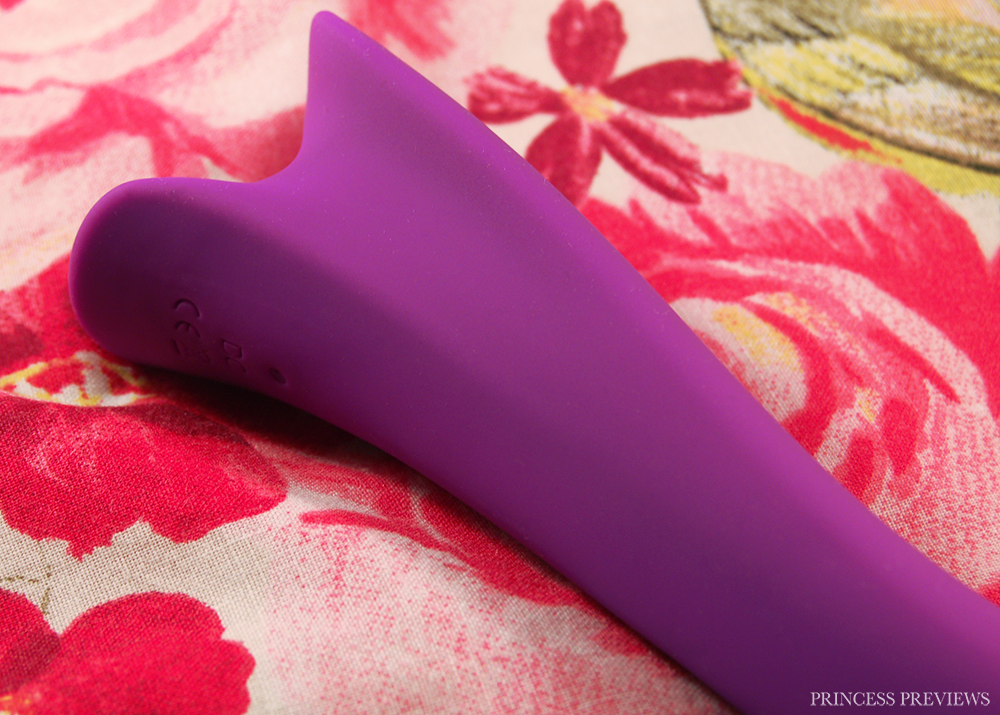 The Paloqueth G-Spot Vibrator is about as simple as its name suggests. Paloqueth aren't trying to develop something crazy and new here, but instead have simply created their own version of a well-loved classic. Its shape and curve are perfect for stimulating the G-Spot, with a large head and thin middle, and the toy is made from a smooth body-safe silicone. The base is where it gets a little more unique, with Paloqueth drawing inspiration from a mermaid's tail to create this curved fin-like handle. In the center of the base is a white area made from plastic which looks and feels a lot like a button, although its actual purpose is to just give you something firm to hold onto. I really love this handle, it's ergonomic and feels extremely comfortable to hold. I feel that sex toy companies often forget to include a good handle and just focus on the insertable end of the toy, so I love that Paloqueth have added this extra touch to their design. The actual button for the toy is under the silicone near the base, and features an 'On / Off' symbol. Then, on the opposite side of the button is the hole for connecting the USB charger to the toy. The Paloqueth G-Spot Vibrator is fully waterproof, however is not suitable for anal or harness play. It only comes in purple.
My order with Paloqueth was made on the 15th of May and I received it on the 21st of May, which was incredibly quick considering it was coming all the way to Australia! The packaging was also completely discreet, with no mention of the company who sent it or what products were contained inside. Alongside the G-Spot Vibrator, I was also receiving their Bondage Set, and these two items were packaged together in a simple yet attractive box. The well-made box features the Paloqueth logo and nothing else, making it a perfect storage solution for these toys or something else, since it's pretty discreet (see here for pictures of that box). Inside this box the G-Spot Vibrator was just stored inside a clear plastic zip-lock bag alongside its instructions and charging cord. I didn't mind this as I am not super fussy about packaging, especially for a toy at this price, plus it means less waste. Although I was informed by Paloqueth later that the warehouse staff had actually forgotten to place the toy in its actual box, so I suppose this isn't how most people would receive it! All Paloqueth products come with a 100% 30 days no-risk money-back guarantee and 1 year manufacturing warranty.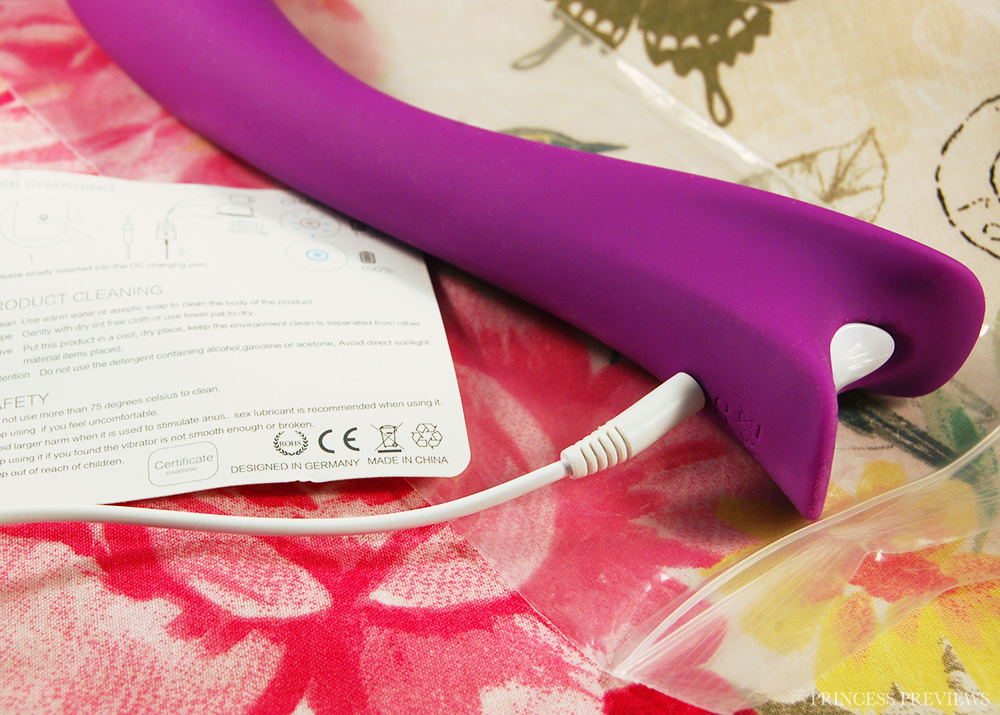 Charging the Paloqueth G-Spot Vibrator is easy since it is USB rechargeable. Just plug in the charger to any USB port and then the other end to the toy through the small hole in its silicone. When charging the LED light around the toy's button will blink, and once fully charged this light will become steady. It should take around 1.5 hours to charge the toy, and then this will give you around 2 hours of play-time.
Since there is only one button on this toy it's pretty easy to use and quick to understand. Just hold down the button for three seconds to turn on the toy, and then press the button again to cycle through the 3 steady speeds and 6 pattern modes of the toy. The toy will always start on the lowest steady speed, and then once you finish clicking through the cycle the toy will put itself on a stand-by mode (still on but not vibrating) until you click once more to start the cycle again. To turn off the toy, just hold the button down for three seconds. Almost everything about this is what I expected and the way I like single button toys to work, so I am happy with it, although I do think the stand-by mode is unnecessary and strange, and could easily drain the battery if you don't realise the toy is still on.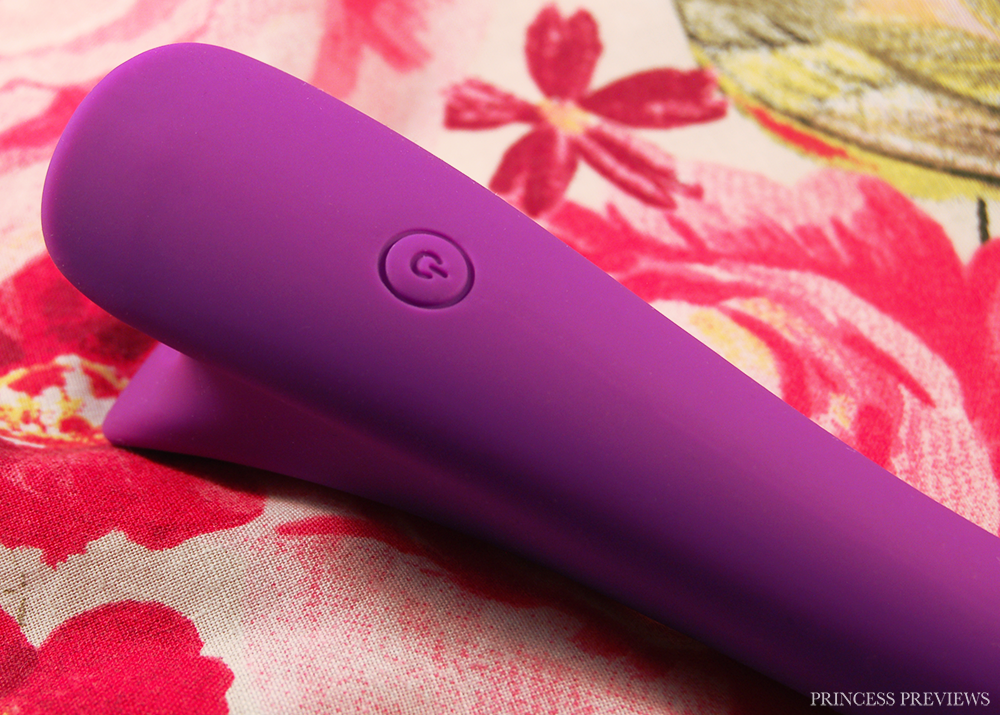 Usually with G-Spot toys I am less picky about how strong their vibrations are than with other vibrators, as I find even weak and buzzy vibes do the trick for my easy-to-impress G-Spot. So I was really surprised to turn the Paloqueth G-Spot Vibrator on for the first time and find that it is actually fairly rumbly and powerful. Not only does it have enough strength to easily win over my G-Spot, but I've found it's also good enough to work on my clitoris! Which, for me, is really saying something, because I often have clitoral vibes that don't work on my clit, let alone G-Spot vibes! This is great as it makes the toy more versatile and gives it an extra use, so if you were unsure whether to buy an internal or external vibrator then this will give you both!
Although Paloqueth have a 'whisper quiet' claim about this toy (as with almost every vibrator ever) I wouldn't exactly call it that myself. It's not super loud, but I would be concerned about a housemate hearing it, even behind closed doors if I was using it on its highest speed. Which may be a concern if you live in an environment where you need some discretion.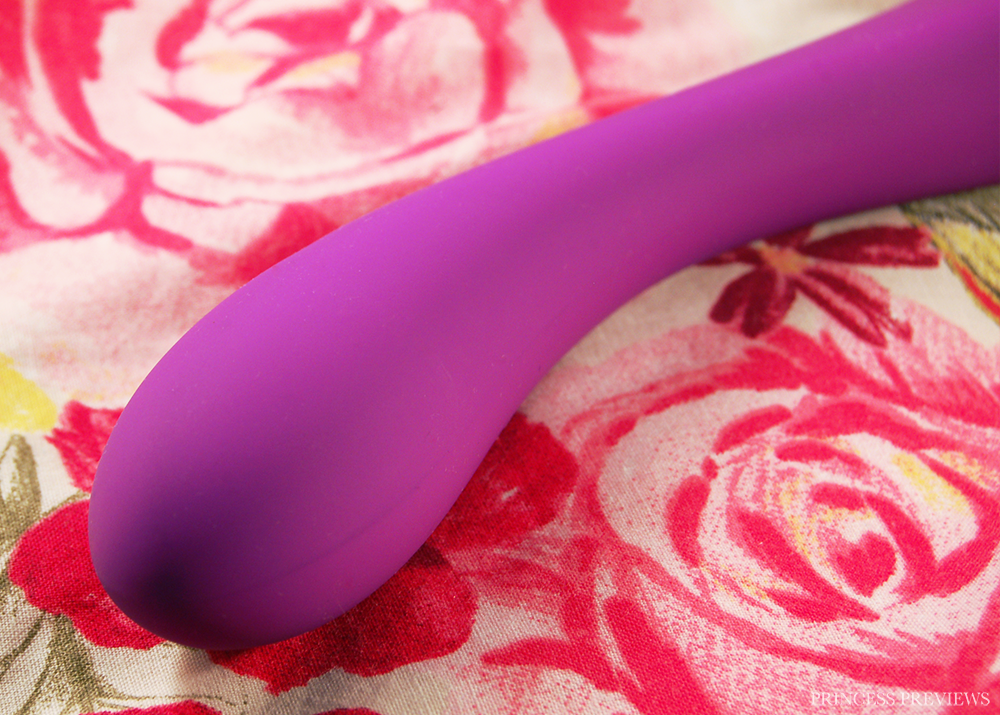 I'll tell you now: this toy is the real deal. I've loved every minute of testing it, and it has totally shocked me how good it is. I enjoy using it on my G-Spot with and without the vibrations, and I find the handle makes it extremely comfortable to hold and thrust with. Orgasms are easy, intense, and addictive with this toy, and I love it. During testing I used it alongside my other low-budget G-spot vibrator, the B Swish Bgee Classic Plus, and I found I far preferred it. I wasn't too surprised by this though, as the two toys are similar in price and the Paloqueth does look more refined. But I was surprised when I compared this toy to my luxury $100 USD L'amourose Prism V G-Spot vibrator. I was not expecting there to be much of a competition between the two, but instead I found myself going back and forth between the two of them, because it took me forever to work out which one was better! In the end I decided that I enjoyed the Prism V's shape and more rumbly vibrations best, but the Paloqueth G-Spot Vibrator certainly put up a good fight, and considering there is about a $90 USD price difference between the two of them that's a HUGE deal! It should go without saying that this toy beat every expectation I had for it, and is certainly one of the best I've tried all year.
Cleaning the Paloqueth G-Spot Vibrator is easy since it is made from silicone and is waterproof. Just throw it in some soapy water when you're done, give it a wash, rinse, and then dry. You can then store it in the bag it came in or in a zip-lock bag. Make sure to not use silicone-based lubricant with this product, as it may react badly to the silicone it is made of, but if you do then first perform a spot test.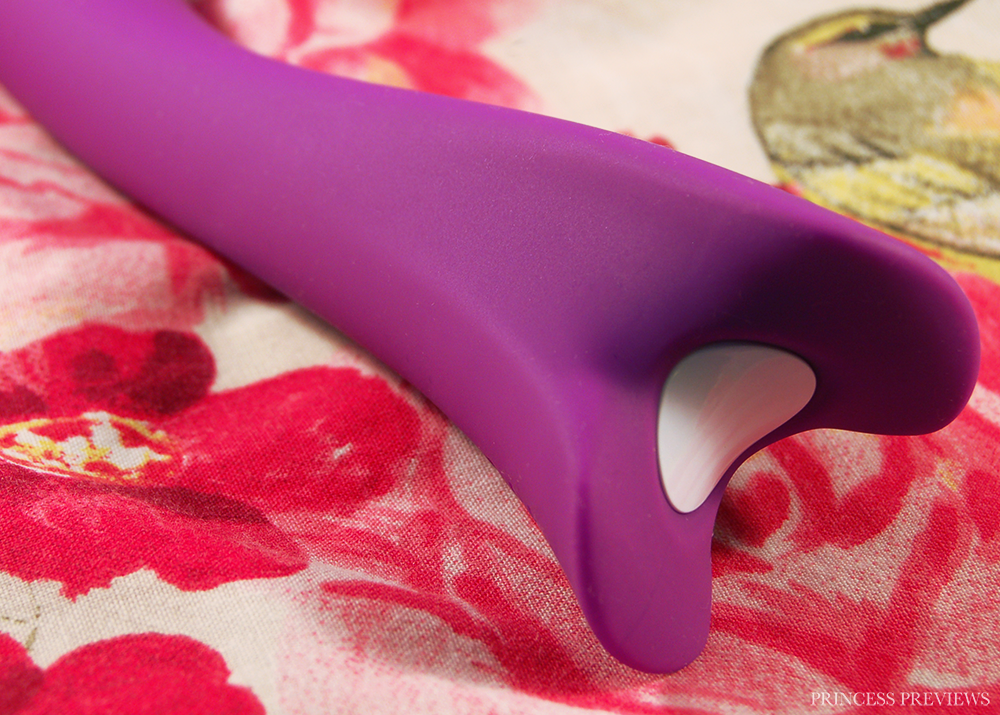 As much as I want cheap toys to be amazing and beat out the luxury ones, it sadly isn't a very realistic expectation. So I feel like Paloqueth have done the impossible here, creating not only a body-safe and powerful G-Spot vibrator, but a cheap one as well! I'm still waiting for the catch, but at this point I haven't found one! I would definitely recommend this to anyone looking for a G-spot vibrator, and would probably even recommend it over the L'amourose Prism V! Of course, with the Prism V you are getting a lot more than just the toy for its high price tag, such as luxury gift packaging, a warranty and lifetime guarantee, as well as the trendy 'brand' of L'amourose. But if these things aren't important to you, then you might as well just save your money and just get one of these! I was hesitant to try a brand I had not heard of before in Paloqueth, but I'm so glad I took the chance and agreed to review this toy, what a delight and surprise!
If you live in the US you can buy the Paloqueth G-Spot Vibrator from their website for just $19.99 USD!
Material - 90%
Appearance / Design - 85%
Solo - 85%
Partner - 75%
Vibrations - 80%
Noise Level - 80%
An amazingly good quality and powerful vibrator for a very cheap price.
I received this product in exchange for an honest and unbiased review.