Review: Paloqueth Bondage Set
Author: Princess Previews    Origin: Princess Previews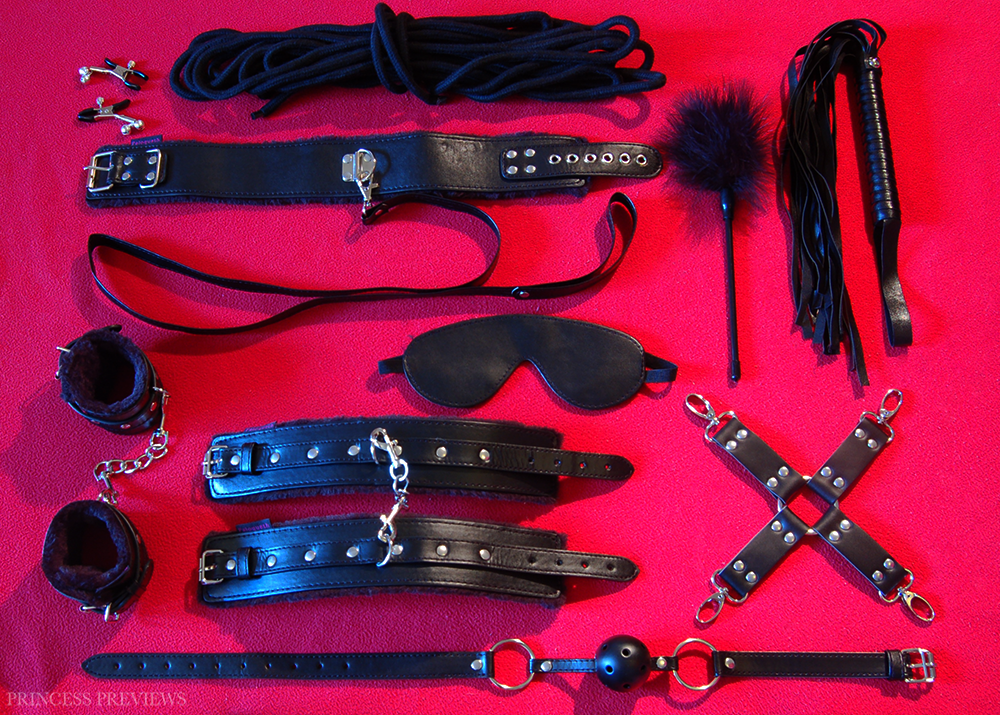 I'm not the kinkiest blogger on the block, but I love to try new things and find new ways to play sexually. I remember back when I was 18 and first exploring my sexuality, a BDSM bondage set was one of the first adult purchases I ever made. It was a simple, low-quality set from eBay, but I loved it and still occasionally use it to this day. I've had people ask me about it before for themselves, but since it's not from a proper brand I've never been able to really recommend it. So, when Paloqueth approached me recently about testing some of their products, I was immediately drawn to their Bondage Set. It's very similar to my previous one, except with more items and made to what appeared to be a much higher-quality. I'm excited for the chance to finally review a product like this at my blog, and possibly finally have a bondage set worthy of my recommendation!
For this review I'll be going over each item individually, but to start I'll give a quick overview of what's included with this set. The Paloqueth Bondage Set is made up of 10 pieces, meaning you should be able to find at least something you're into with all those options. Included is: a pair of hand cuffs, a pair of ankle cuffs, a pair of nipple clamps, a leather flogger, a ball gag, a cross strap, a feather teaser, a blindfold, a collar and leash, and a 10m rope. My previous off-brand kit contained everything here except for the cross strap, nipple clamps and feather teaser, so these three items I was very interested to try. Almost everything is made with a nice leather, and many of the items, such as the blindfold and cuffs, also feature a soft fur to protect the skin. At first glance this is a very high-quality selection of items, and everything feels very sturdy and well made. Most of the items also feature a small tag with Paloqueth's name on it, and the set only comes in black.
My order with Paloqueth was made on the 15th of May and I received it on the 21st of May, which was incredibly quick! The packaging was also completely discreet, with no mention of the company who sent it or what products were contained inside. Alongside the Bondage Set, I also received the G-Spot Vibrator, and these two items were packaged together in a simple yet attractive box. The well-made box features the Paloqueth logo and nothing else, making it a perfect storage solution for these toys or something else since it's pretty discreet (unless someone who sees it is nosy enough to Google what Paloqueth is). The Bondage Set items were all neatly contained together in a see-through drawstring bag, and in the sort of way that once you get them out you have no idea how to get them all back in again. I like the bag and it makes the product feel more luxurious, plus it's easily reusable.
Blindfold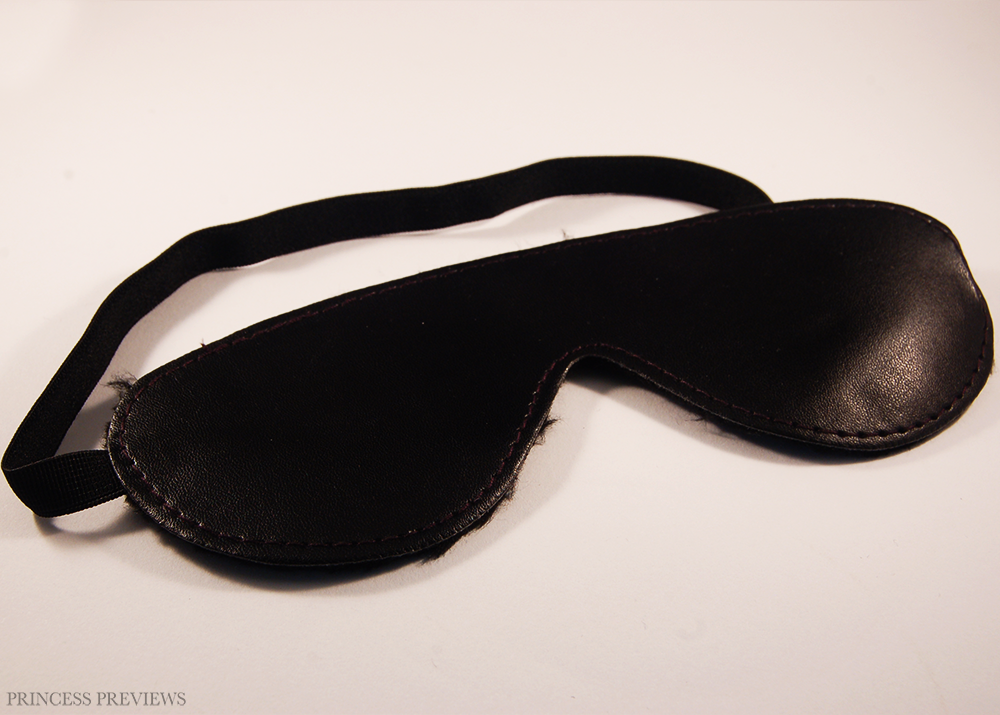 This one is called the Eyepatch on Paloqueth's website, but I think blindfold is probably more appropriate. This piece is about as simple as it gets, being a thin piece of leather with fur on one side, and an elastic strap on the back to hold it to your face. The fur feels nice, making this comfortable to wear, and the strap isn't too tight as to give me a headache. My previous version of this had a much thinner and shorter strap which I did not like, so this is a welcome improvement. Whilst wearing it I can't see anything except a little bit of light where my nose is, but this shouldn't affect use. My only complaint would be that the leather that rests against my nose can be a little uncomfortable, and a bit of extra fur here would have been preferred.
Collar & Leash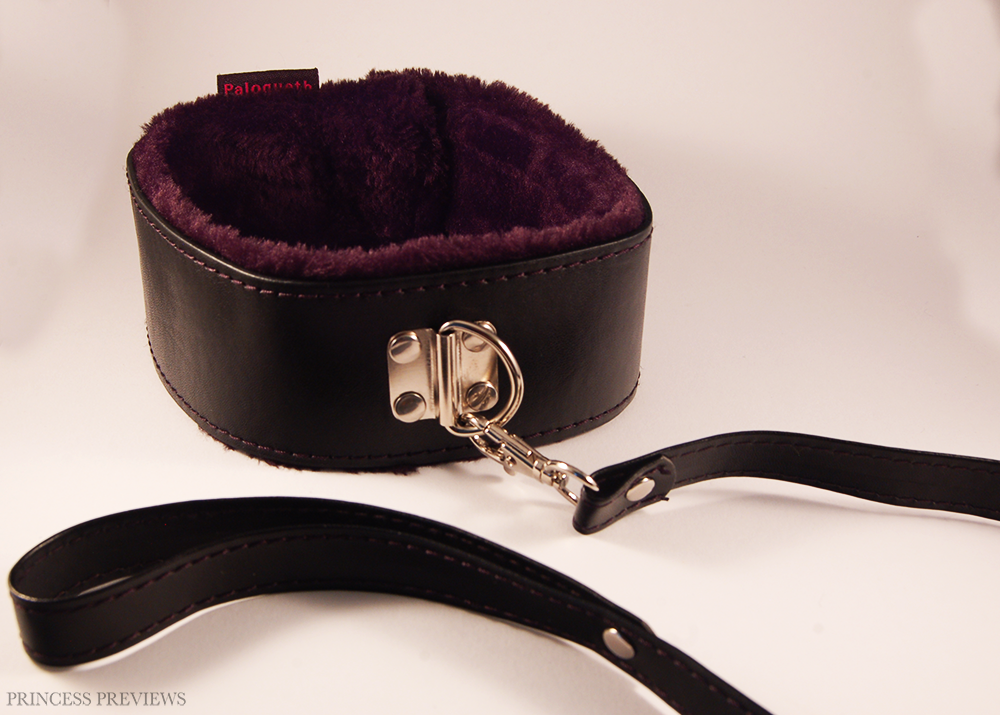 The Collar and Leash was always one of my favourite pieces from my old bondage set, so I was eager to try this version of it out. While this newer collar looks almost identical to my old one when put side by side, there is actually a bunch of small differences that vastly improves Paloqueth's version. The main differences are that the fur is softer, and the buckle is placed in a much better position. It's also more flexible, as only one piece of leather has been used, whereas my old version had two pieces sewn together, which gave it a rough edge instead of Paloqueth's smooth beveled edge. Wearing it is very comfortable, and this is aided by a little extra fur that covers the sides. The two leashes are then very different, with the Paloqueth one being made of leather and 110cm / 43.3″ long, while the other one is made from a rough cheap fabric and only 95cm / 37.4″ long. Obviously this makes the Paloqeuth version far superior as it makes it feel more luxurious and matches the collar better.
Hand Cuffs and Ankle Cuffs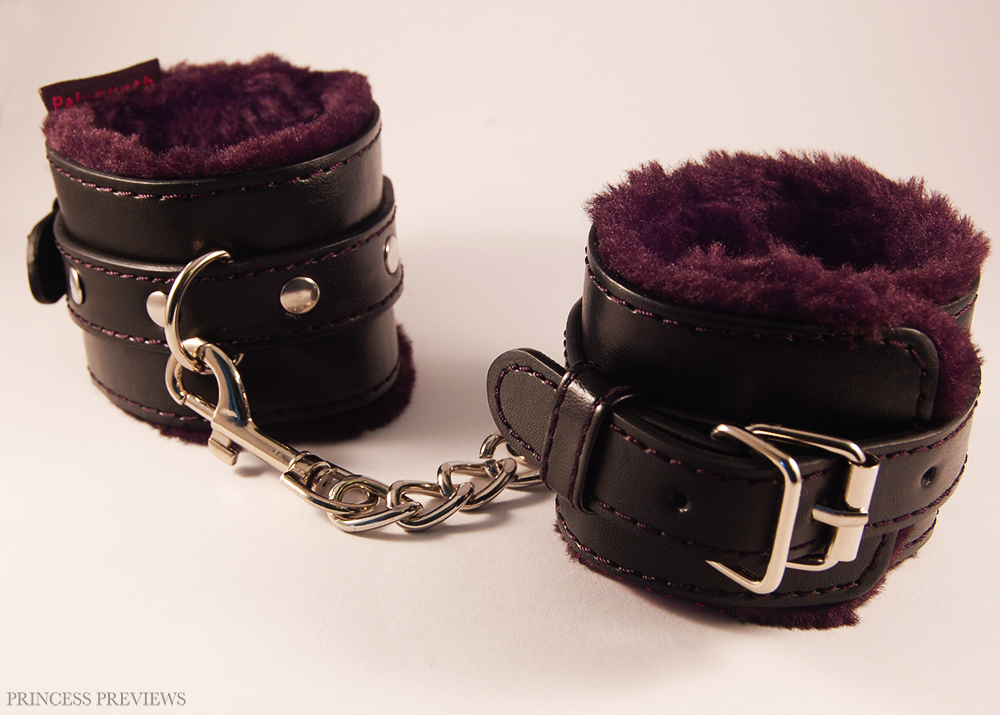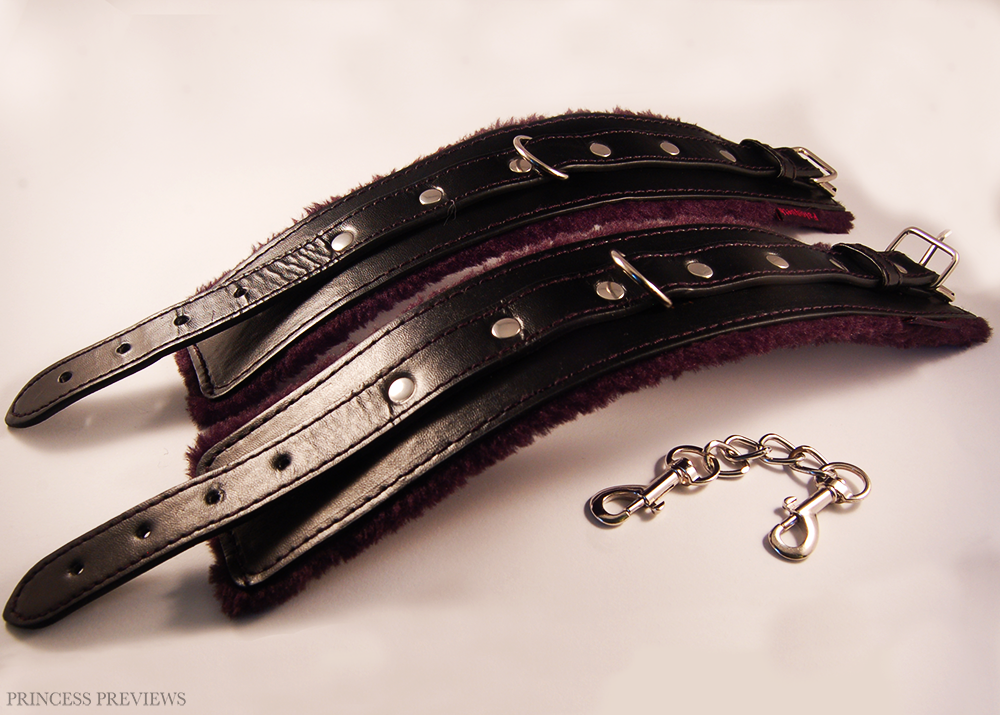 I quite liked the Hand and Ankle Cuffs that came in my previous set. I've tried a few things at this point for restraints, such as rope and metal handcuffs, but I much prefer these soft furry leather versions to anything else. As with all the Paloqueth items, these cuffs are similar but a lot better made than my old ones. The leather is only one layer, rather than two stuck together, making these cuffs more flexible and also improving their appearance. While the hand cuffs are about 25cm / 9.8″ in length, the ankle cuffs are slightly larger, coming in at 30cm / 11.8″. This differs from the previous set I had, which had the hand cuffs being only 20cm / 7.8″, and ankle cuffs being 25cm / 9.8″, which made the hand cuffs quite small and meant that the leather could not fully cover my arm when I used them (and I have very small wrists). I often had to resort to using the ankle cuffs for my arms because the length suited me more, so it's spot on that the Paloqueth set uses that size for their hand cuffs, and a larger size for their ankle cuffs. Another great thing in comparison to my old cuffs is that even if you have the belt set at the widest position the leather will still fully cover you, which wasn't the case with the old ones and something that frustrated me. There is also a lot more fur, and this makes these cuffs very comfortable to wear. I also find them easy to put on (with or without the help of my partner), and sturdy enough that I feel I can struggle against them a little without fear of breaking them. Since there is so many holes along the belt I feel these would be suitable for a range of body types. In addition to the cuffs, you also get two short metal chains for connecting them together. These are easy to use and clip on, and can be used for a variety of positions and situations.
Nipple Clamps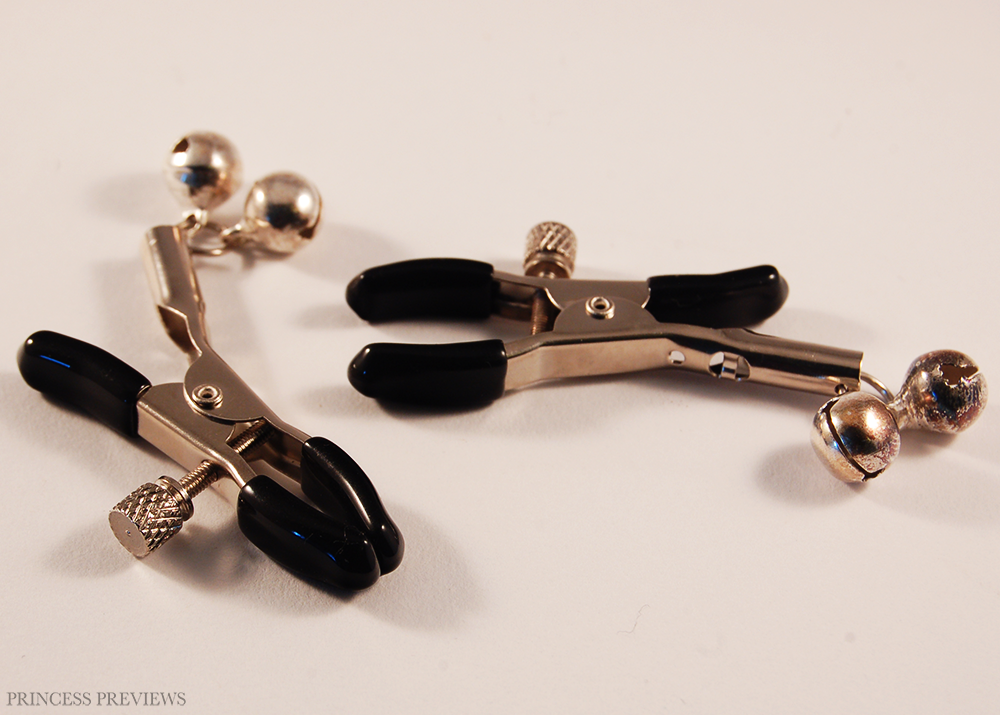 Nipple Clamps did not come in my previous bondage set, but I did review the Doc Johnson Kink Tug Nipple Clips for a magazine last year, so I feel I have a little experience with them. This pair is very basic, and comes in its own little plastic bag to keep them together. They are made of metal and have a smooth black plastic over the ends so you don't hurt yourself. The little screw then lets you easily adjust the opening of the clamp, so you can make it more or less intense for yourself. At the bottom of the clamps are then some bells. These are kind of cool and I can imagine situations where they would be great, but I can also imagine times when they would be really annoying, so I wish these were clipped-on so you could choose when to use them. You can remove them without too much trouble, but getting them back on would be a little more tricky as you'd need to be adjusting the metal ring they are on. Overall these Nipple Clamps are simple and well made, perfect for a beginner, but will probably be a bit boring if you already have a pair.
Leather Flogger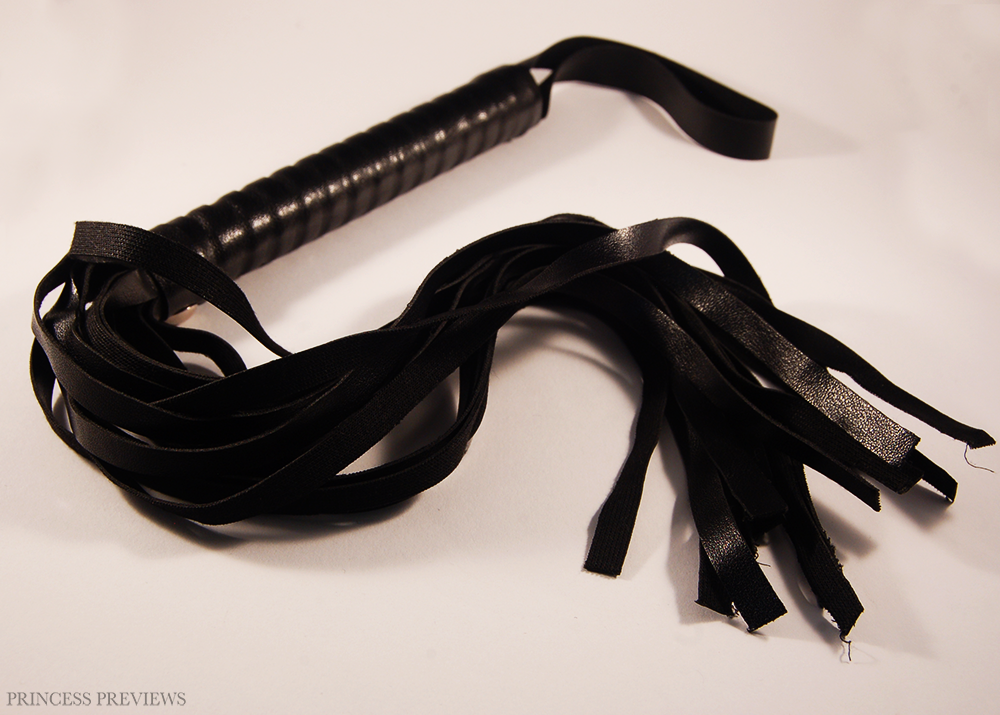 Out of all the items, the Flogger, or Whip as the Paloqueth website calls it, is probably what I would use the most. I don't often use much bondage gear in the bedroom these days, but I do enjoy the occasional spanking and often use gear like this to get the job done. The Paloqueth flogger is very similar to the one from my previous set with a few small changes that make it better. Although ultimately I am a little disappointed in this item. While it's fine for the price paid, I would say it is the lowest quality item in the set. The leather used isn't as nice as on the other items, and it is basically just wrapped around a wooden pole which you can see the end of sticking out. The tassels at the end are also not the regular leather, but just a leather-feeling material, so the impact isn't very intense with it. This will still certainly get the job done, and I have enjoyed using it, but just in comparison to all the other items in this set this one just seems a little out of place.
Rope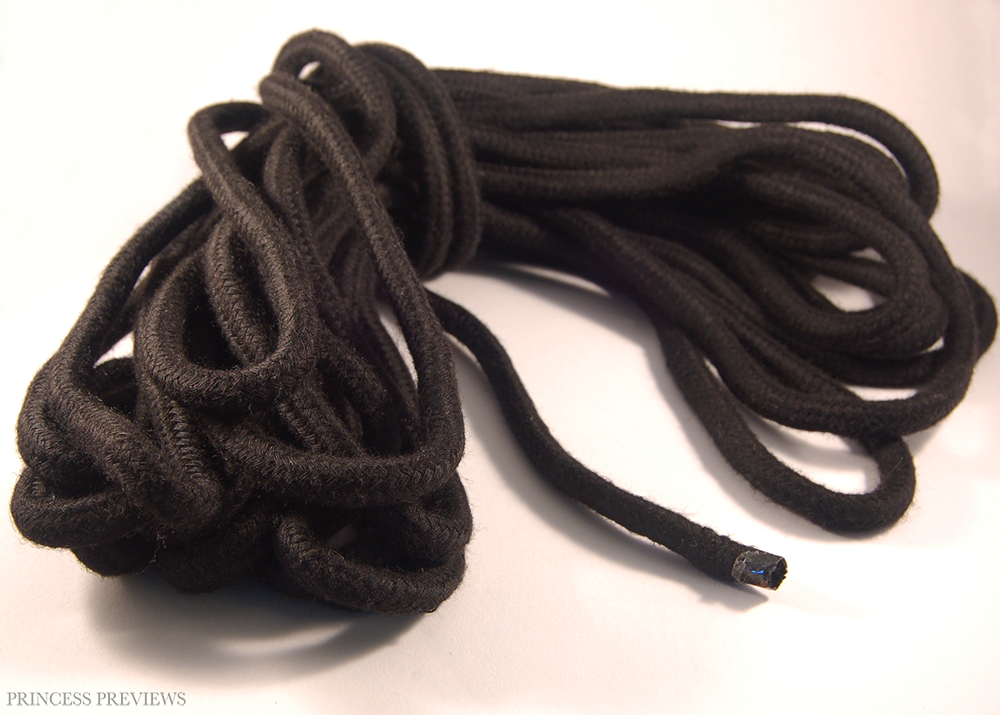 I've always loved the look of rope bondage, but I found my little 4m / 13ft rope I got in my previous bondage set too short to do even the simplest of harnesses. I'd been meaning to buy a longer rope but had never gotten around to it, so this 10m / 33ft rope was easily the item I was most excited about in the whole set! I find the feel of the rope to be very soft and it has a tiny bit of stretch to it, although I also found it slightly itchy when touching my body. So far I've tried it out for a simple pentagram harness that you can see a photo of here, which I really enjoyed using it for. However I found the rope was a little too short to complete the tutorial I was following which was a shame. Since the tutorial should have been fine for a 10m rope this made me think to measure it, which uncovered that this rope is actually only around 9.2m / 30ft. This was a real shame as it is advertised as 10m / 33ft, and I've already found that missing metre has made a big difference. If the rope is something that is important to you then I probably wouldn't recommend this set, as the length could continue to vary between products.
Ball Gag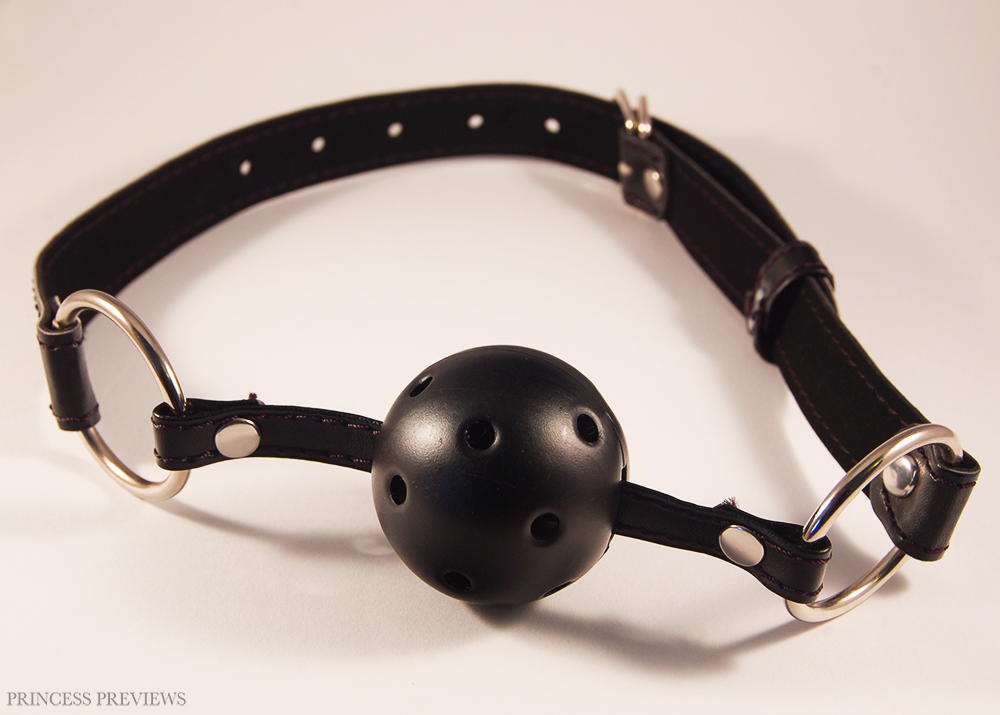 Out of everything in this set the ball gag will probably see the least use from me, it's just not my thing. But I can appreciate that Paloqueth's version is very nice. As with the other items it is very similar to the one from my previous set, but the leather is far nicer and thinner, making it more flexible. The only bit that I feel lets the quality down a little is the ball itself, which is just made from a cheap plastic and has an obvious seam that doesn't feel very nice. This also means it smells and tastes a bit of plastic when you first get it, although this goes away after washing it a few times. I've also found that the stitching on the leather for this item is probably the worst of all of them, which makes it seem like a bit less effort has gone into this than the other items. Overall it's still good for its price and for a beginner, but otherwise nothing special.
Feather Teaser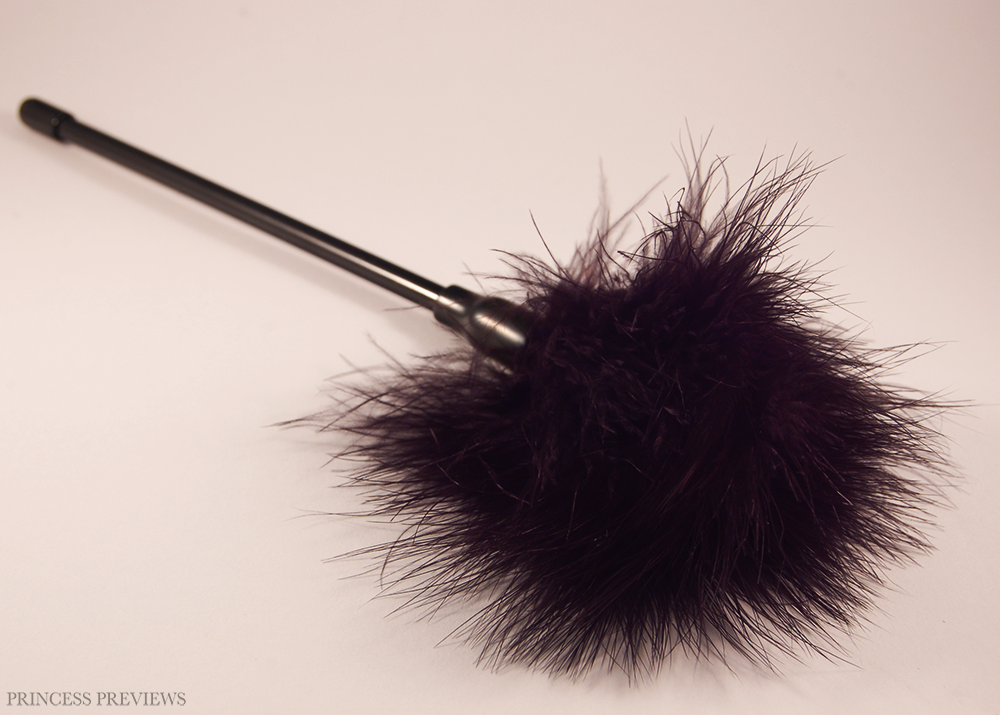 A few years ago I attended a workshop on sensation play, and the feather teaser was the item I was most interested in. A lot of the other items such as the Wartenberg Wheel looked too much for me, but the feather teaser looked like a great beginners-friendly option. Unfortunately despite my interest in it, I never ended up getting a one… until now! This item is super basic, although I am happy with it and don't feel it really needs anything more. I remember looking at buying feather teasers back when I first wanted them, and some had such crazy handles and designs that they were super expensive! This simple and cheap one is much more my speed. The handle is made out of plastic, and the feathers feel very nice. I've found it to be great for foreplay, as my partner can lightly run it over my body to help stimulate me in a way I am not use to.
Cross Strap / Hogtie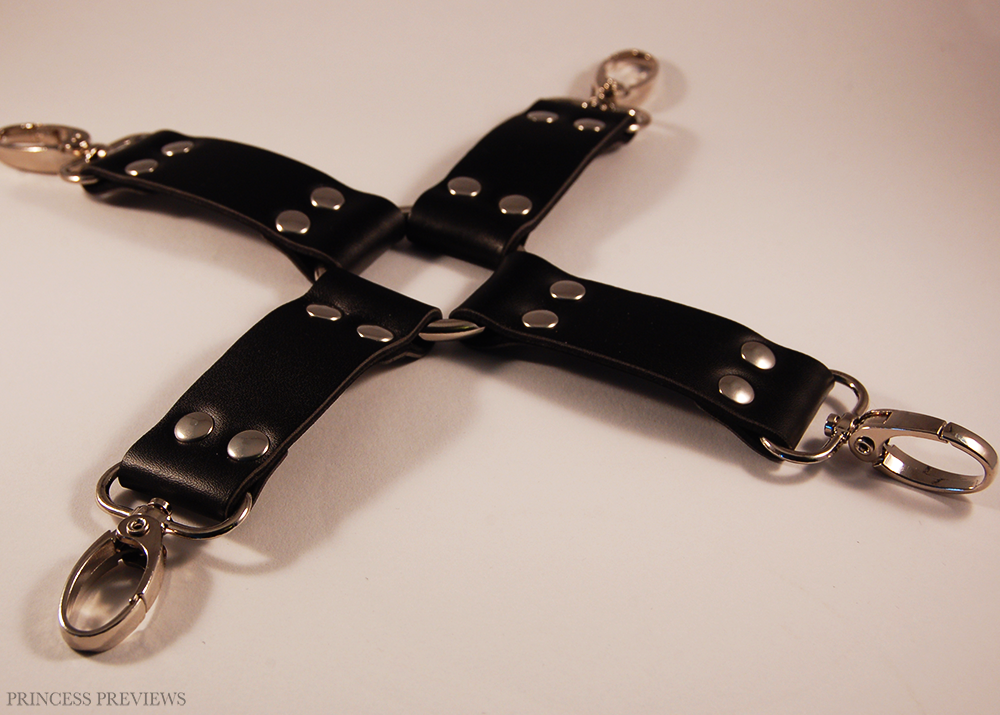 Finally the Cross Strap or Hogtie (Paloqueth uses both names) was the item I was least familiar with when I got it. But after doing some Googling I found that this is really just an accessory for the hand and ankle cuffs so that they may all be connected together. This is easy to attach and use with my partner's help, and while it isn't really for me I can see the appeal and found it comfortable to wear. My only note would be that it is quite small, so doing things like opening my legs for PIV sex can be difficult.
---
Overall I have really enjoying trying out each item from the Paloqueth Bondage Set. While they are all very basic beginner-orientated items, almost all are of a high-quality and well made. Considering the very low price tag and the fact that you get ten whole items for it, I think this set is brilliant value. I really consider this sort of thing a 'Starter Set', something you buy when you don't know what you like yet so you get a bit of everything for a low price, and for this the set is perfect. I definitely wouldn't recommend this to someone who is experienced with these items and already owns some of them, because you'll likely find your individual items to be better than these. Although with that said, these items are definitely superior to my previous bondage set, and so are definitely great additions to my collection.
If you live in the US you can buy the Paloqueth Bondage Set from their website for just $22.96 USD!
I received this product in exchange for an honest and unbiased review.