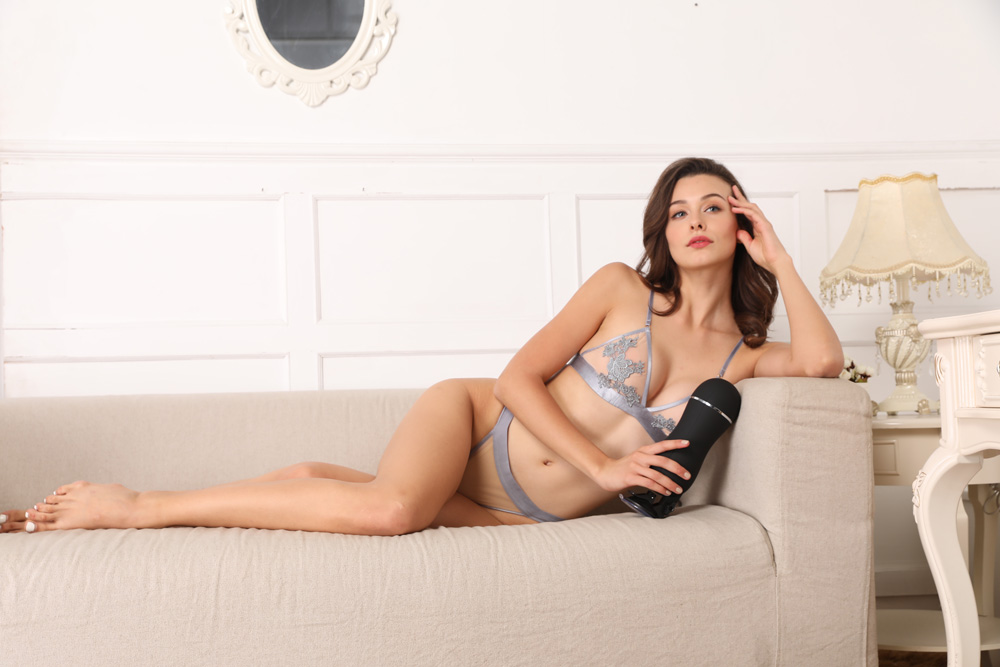 The masturbator cup has been fitted with a powerful 10 speed bullet that sends waves of vibrations though the sleeve and will stimulate the whole length of the penis and induce knee trembling sensations!
The inner sleeve is made of wonderfully soft and supple TPE, the internal ribs is designed to create an incredible feeling on every thrust,while its outer casing is made of firm ABS plastic, both of which are completely body-safe and 100% phthalate-free.
The outer sleeve has external ridges, giving a solid grip to hold on to as the experience escalates. It's the perfect choice for those nights (or mornings, or afternoons) when nothing will do but some pussy; she's always ready when you are for a lifelike ride.
In addition to all these amazing features, this masturbator is also equipped with an audio function which allows you to listen to a girl's moans, which distinguishes it from other products, creating an awesome experience that will build huge orgasms and take masturbation to the next level.
The base's easy-lock strong suction cup lets you attach it to any hard surface any smooth surface or shower wall, the best part is that you can adjust the angle to simulate multiple positions for hands-free satisfaction.
10 incredible vibration patterns is ready to send you over the edge.
The single speed, powerful bullet vibrator slots into place inside the stroker and sends immense vibrations through the incredible internal textures. One simple activation buttons are located at the bottom of the cup,right near the headphone jack,this offers 10 incredible vibrating and pulsating functions and creates an unforgettable experience you will be able to repeat whenever you desire.
Suction cup mounts to smooth surfaces for hands-free stroking!
This convenient mount screws onto the bottom of your male masterbator cup,loosen the screw at the bottom first,then place it on any hard, non-porous surface like a chair, table, or shower wall.See the latch above the suction cup? Make sure it's lifted, then press the suction cup down and push down on the latch. This creates a secure seal that lets you play hands-free.Enjoy the feel of the Stealth Vagina Stroker, no hands required. Release the suction instantly by pulling up on the latch.
Explode with this seriously sexy vaginal stroker.
The sexy girl's moaning creates irresistable feeling for an incredible, simultaneous pleasure experience. With tantalizing porn star moaning, this gives you more than real climax with each stroke, it is certainly something you will want to try, and then come back to time and time again.
Easy to hold and manageable discreet design hard case.
Fits easily and naturally in hand with the simple, smooth curve for better control, allowing you to enjoy every deep thrust by uncapping the toy.
The sleeve is made from soft and supple TPE for pure pleasure.
The sleeve is made from soft and supple TPE, features extra textured chamber for added stimulation, its realistic details designed for pure pleasure. With your every move, dozens of soft ridges ripple around your manhood.