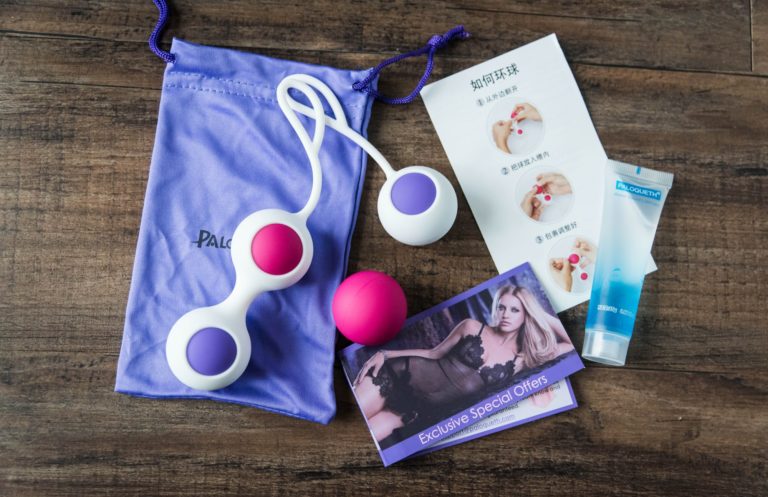 Modular in nature, the Paloqueth Kegel Balls Set is designed as a progressive, build-your-own kegel exercise kit. Made entirely from silicone and fully waterproof, this kit is available from Amazon for easy purchase. The kit includes a 30-day money-back guarantee and a 1-year manufacturer's warranty. The toy is BPA and phthalate-free, and the instructions include a minimal, progressive kegel exercise plan to get the most out of your toy right away. The kit can provide a lighter kegel exercise experience at 30g of weight or a heavier one at 80g of weight.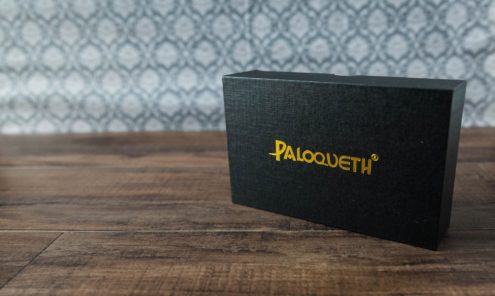 Your kegel balls set will come nicely packaged in a sturdy black box. I'm pretty impressed by this black box, actually. It's sturdy, relatively discreet with minimal external packaging, and it holds the kegel balls really nicely. Inside of the package, the kegel balls themselves are resting within foam crafted just for their size. Along with that, your kegel balls come with a sample-sized bottle of water-based lubricant, a purple satin storage bag, and short (visual) instructions for you to follow. The English is definitely a bit spotty, but it gets the point across – and the pictures are actually super, duper helpful.
Now let's talk about what's included in this modular system. Your Paloqueth Kegel Ball Set includes two silicone girdles. These silicone girdles are just flexible pieces of silicone on their own – but each one can pop these little silicone balls inside of them. Consider them the "carriers" of these little silicone balls. One silicone girdle includes space for one ball while the other includes spaces for two balls. This allows you to vary how much weight and size you'll be using in your kegel exercise.
In addition, the Paloqueth Kegel Balls Set includes three silicone, weighted balls. Like most kegel balls, these balls have little internal balls within the balls themselves. These internal balls roll around and provide sensation when the product is moved – or when you move while the kegel balls are inserted. The kit includes two pink balls and two purple balls. The pink balls are 30g in weight while the purple balls are 40g in weight. This means the kit can go from a single, one 30g ball of weight all the way up to two 40g balls of weight. This allows for a pretty large range of progression.
Popping the balls in and out of the silicone holsters is a little difficult, but it's not possible. Honestly, you probably want it to be a little difficult or they'd be sliding out easily while you're trying to use them – and nobody needs that. It'll take a few attempts before you really learn how to do it – and please don't attempt it while the toy is lubricated. It will up your frustration level by 300%. If you want to change the weight mid-use, go clean the toy up first, change out the ball, and relubricate. With any slickness on the toy, it gets near-impossible to remove the balls from the silicone holsters. All the balls seem to fit smoothly into all three of the holster slots, though, so which ones you choose to use is pretty much just up to you.
The kegel balls themselves do have a bit of a noticeable seam on them. This seam is actually noticeable during use. To solve this, I'd really recommend inserting the balls in a way that allows the silicone holster to "hide" the seams on your kegel balls. This reduces the irritation from the seams (which, honestly, I don't like existing in the first place). But for the price, you have to take some precision sacrifices, and that's one of them. So try to get the balls into the silicone holsters where the weighted balls' seam is hidden by the soft, seamless silicone of the holster.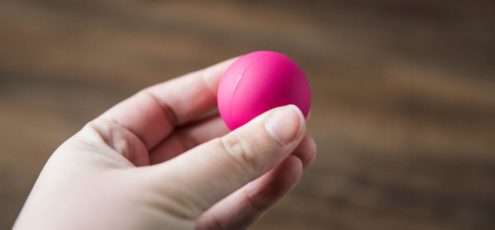 As for the internal sensations that these kegel balls can provide? Well, it's pretty great. Unlike some kegel ball toys I've played with, these kegel balls actually do provide a decent amount of sensation when you're using them. Expect lots of feeling of movement from those internal balls within the kegel balls – and that adds quite a bit of enjoyment to the Paloqueth Kegel Ball experience in general. Fantastic job with allowing the little balls to roll well; that isn't always the case with kegel balls.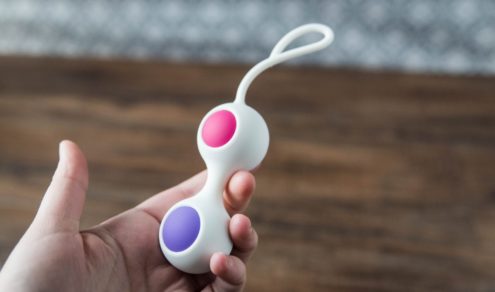 Inserting the balls takes two fingers and a little bit of patience, but these Paloqueth Kegel Balls insert pretty easily too. Just a little bit of lube, and they'll slide in without much of a problem. Retrieval strings are integrated silicone to the silicone holsters, and they work fantastically. I haven't had any problems with them.
Once the balls are inserted, the actual sensation will depend on what you're going for. Like all kegel balls, the sensation likely isn't enough to orgasm or really get close to it. However, it can provide a pleasant, sensual reminder about what you're doing – and a pleasant bloodflow to the area that can increase arousal. If you like feeling things internally – or enjoy the idea of having a "sex toy" inside you while you do chores or shopping, kegel balls can be a perfect solution. They aren't usually the "main event" by themselves.
Instead, kegel balls are usually used for kegel muscle training. These can do that relatively effectively. The weights are standard weights for kegel balls, and because you can choose your own adventure", you don't have to worry too much about weight when purchasing it. Use lighter if you need it or heavier if you need it. These balls tend to stay inserted pretty nicely while using them, and you can easily do your kegel exercises around the heft of these vaginal toys. The included "training plan" is actually relatively reasonable, and it'll have you walking through the various weights and sizes of the Paloqueth Kegel Ball set really easily.
The included water-based lubricant works, but honestly, it wasn't a focus of my review. The lube bottle has literally zero information on it (including an ingredient list), and I'm not really fond of using random bottles of lube without any information. That being said, it's a decently large little bottle, so you'll probably get one or two full uses out of the included lube. It's small, travel-sized size makes it a good "oh shit, I forgot my regular lube!" back-up.
Cleaning your new Kegel Balls Training Set is really simple too. As the system is entirely modular, you can pretty much just take things apart for a full, thorough cleaning whenever you want. And honestly, I'd recommend doing that pretty often (if not after every use) just for a thorough clean. That being said, if you're careful about it, you can get away with leaving the balls within their silicone sleeves for cleaning. Warm water and anti-bacterial soap works fantastic for cleaning this set, and it can be sterilized in boiling water if you want a really easy clean. (I just throw on a separate pot when making dinner for just the water and allow the toys to sterilize themselves while I'm making dinner anyway. It's really simple.)
As we talked about before, using lubricant with kegel balls like this is highly recommended. When you do so, you should choose water-based lubricant. Silicone-based lubricant may harm the material of your kegel balls. Stick with water-based lubricant instead.
And for storage? Popping the toys right into the purple satin drawstring bag or into the original black box works perfectly.
Overall, I genuinely recommend the Paloqueth Kegel Balls set. It's not quite as "refined" as many of the more-expensive kegel ball options out there, but it doesn't really matter. The Paloqueth Kegel Balls do perfectly well without relying on extraneous additions. The set offers a full range of weight, and it's decently simple to pop the balls in and out. The storage design is perfect, and the fact that the full kit is made of silicone really adds to the body-safe experience. As much as possible, the Paloqueth is going to be an effortless-to-use kegel ball experience – and that's exactly what you want out of your kegel balls. Thanks to Paloqueth for providing these silicone kegel balls for my Paloqueth Kegel Balls Training Set review.