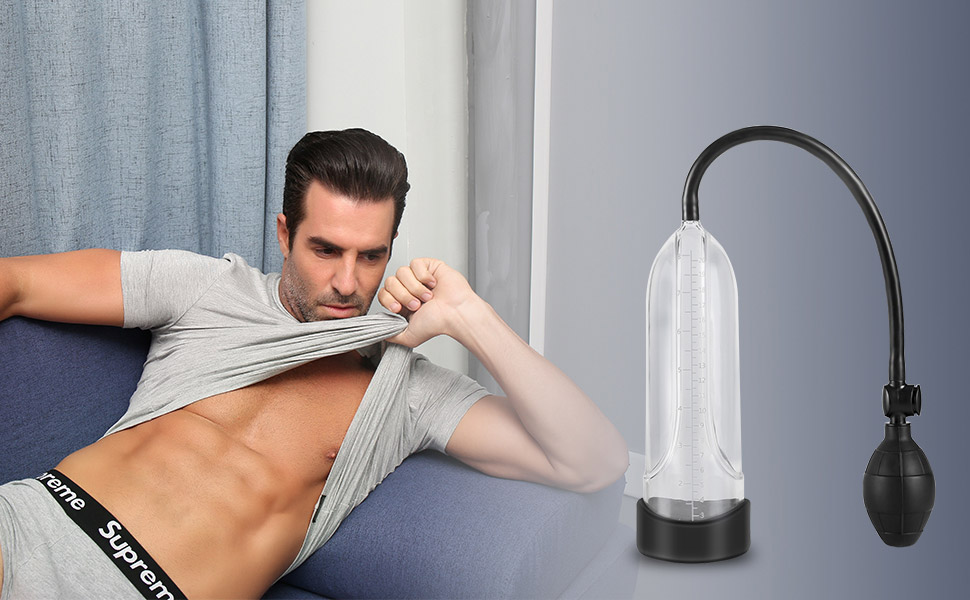 ♥ The transparent chamber measuring 9 inches long with an inner diameter of 2.8" and a precise gauge that is convenient for watching your penis grow and measuring your progress.
♥ The hand bulb is made of silicone which is much softer to squeeze and rebound without much of your strength. The quick-release valve relieves pressure with a push of the button.
♥ The insertion sleeve is made from TPE which is extremely durable and impossible to be ripped after many uses. It also ensures that the seal remains tight and intact with no air leaking in-or-out.
♥ Made of silicone, the air hose is soft, flexible yet still very firm. The fitting where the air hose meets tube won't leak - creating enough vacuum when held just right.
♥ With regular use, this product will actually contribute to male penis health. Owing to pure vacuum physiotherapy, it's a quite safe and effective way for a man to train penis erection without any harmful side effects.
Observe Penis Progress with Clear Cylinder
The cylinder is transparent and with a translucent gauge for easy tracking and monitoring of one's progress. Just a glance at the calibrated chamber lets you measure the progressive size increase of your erection. Watch your boy gradually turn even bigger, longer and harder until the maximum effect you deserve. It helps to capture the climax feeling to bring you both spiritual and physical joy.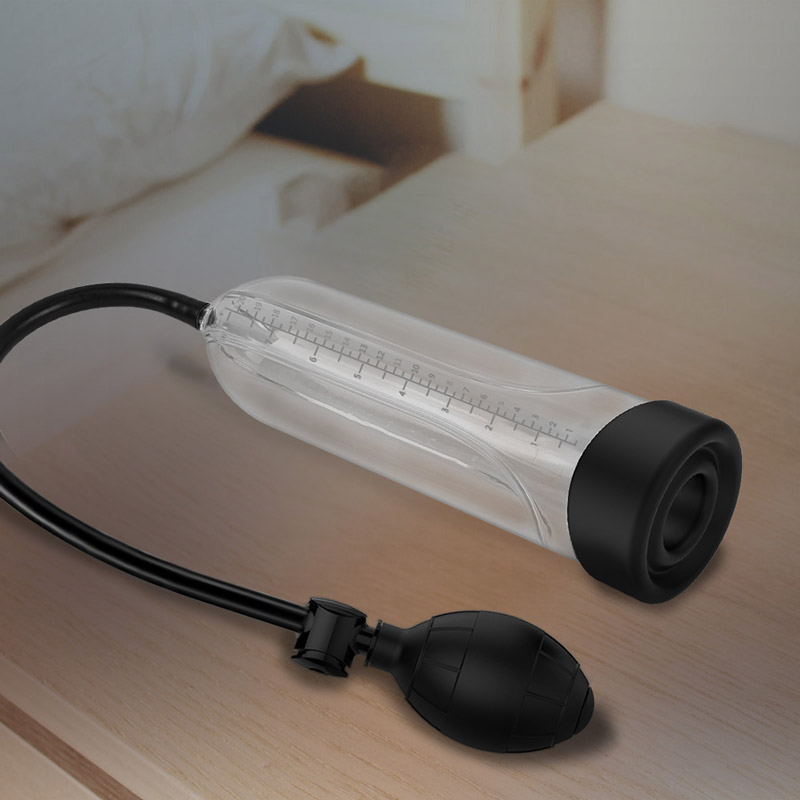 Soft Silicone Bulb Is Easy to Press and Rebound
As the handball of the item is made of silicone material, there is no denying that the bulb is soft, odorless, non-toxic and skin-friendly. Furthermore, in order to create a vacuum situation in the tube, you don't need to put forth your utmost strength to squeeze. Just gently press it and wait for its bounce for several times, then you can completely enjoy a marvelous experience of your penis erection.
Pump Up Your Performance and Pleasure
The vacuum suction draws a pleasurable rush of blood into the entire tip. This increases the sensation while creating a fuller appearance and harder erection; providing both you and your partner with the most satisfying results. This toy actually contributes to penis health with regular use.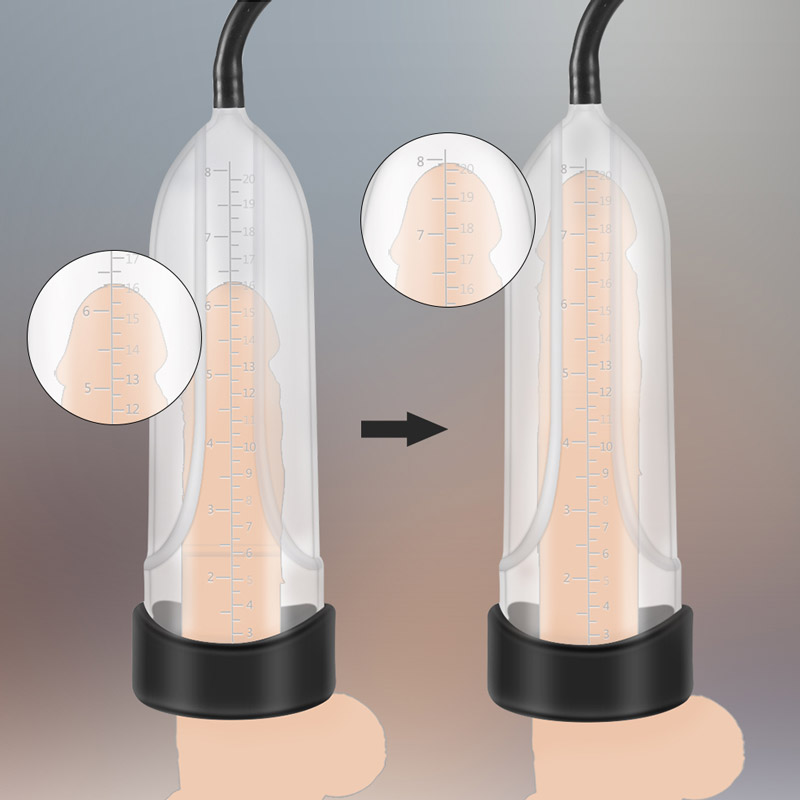 Firm Air Hose & Quick Release Valve
The air hose is long, flexible and durable enough to easily crimp in all directions. It's connected with the tubing closely to create a pure vacuum, letting you enjoy the feeling of your massive erection. The unit also has a quick release value to ensure safe play at all times when your penis reaches ideal size.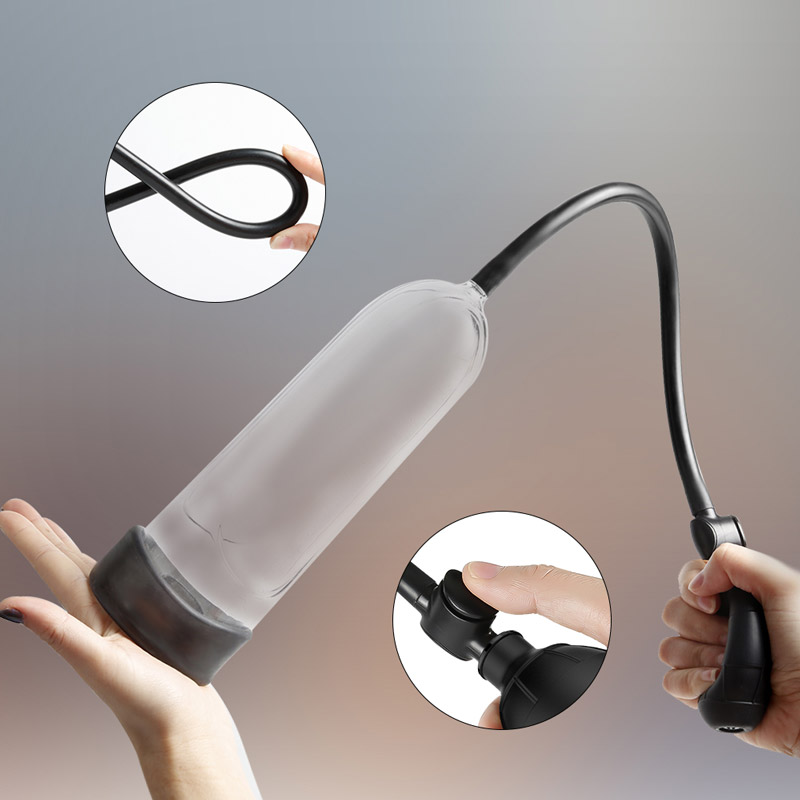 Incredibly Durable Sleeve and Tight Seal
The sleeve is made from high-quality TPE which is durable and smooth. You can use the sleeve several times without doubting its effectiveness or its suddenly ripping. It can also preserve a perfectly tight suction against your skin to create sufficient vacuum inside the chamber, helping you achieve the penis growth you've always desired.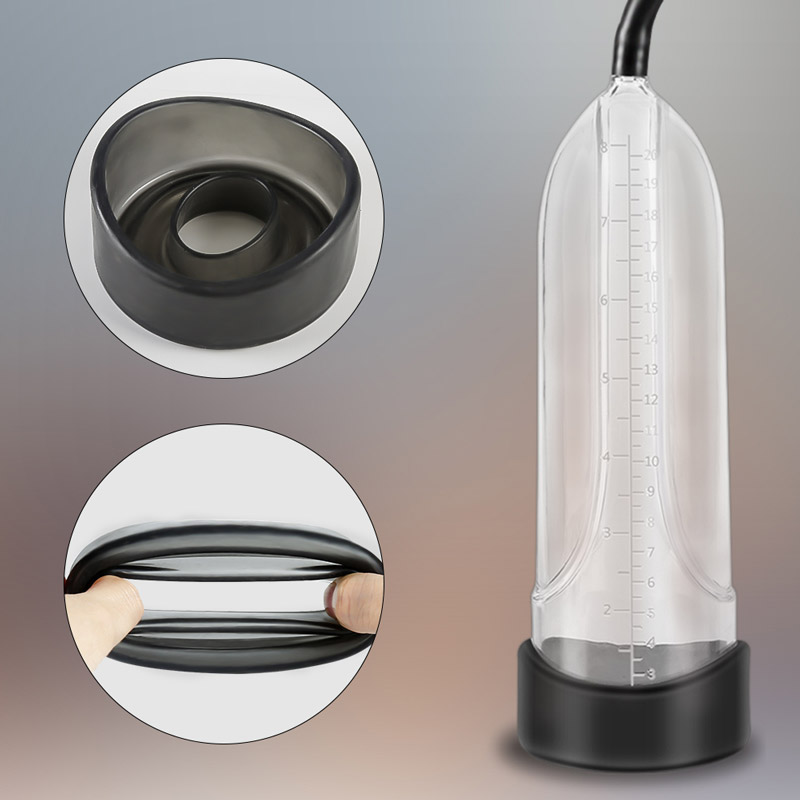 1. Please use with water based lubricants.
2. The cleaning water temperature can not exceed 40 degrees, can not be washed with acid alkaline cleaning solution.
3. After cleaning, wipe it off with a towel, wrap it in a nylon bag, and collect it properly.
4. Put in a cool place, do not expose to the sun, use after cleaning.
5. Please put the product out of reach of children.